Cat Jewelry Earrings
Cat Earrings? What a strange thing is cat bling!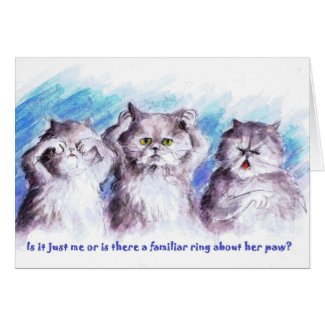 A Familiar Ring Cat Greeting Card
by
persimew
Find more Cat Cards at
Zazzle
Cat earrings? Whatever next I hear you meow! Crazy humans willingly make holes in their ears for cat jewelry. Unlike us, they don't all make holes in other humans' ears otherwise they might get into trouble with the cops. Fashion conscious humans like to have holes made in their OWN ears by other humans they call beauticians and then they stick in pretty things made out of metal to fill the holes. Well, the last cat who tried to make a hole in MY ear got a short sharp slap with a fistful of claws!
Sometimes they redeem this madness by having little jewelry cats dangle from their ears. How strange!
Colorful cat earrings – Kitty bling to make an impact!
I was so impressed by the array of beautifully made and colourful kitty earrings on sale for humans to put in their new ear piercings!
Seeka Kitty Cat Earrings
Beautiful and funky fashion cat earrings crafted in stainless steel and hand painted with acrylic and metallic paint – Swarovski crystal decoration.
Time to Leave Earrings by Zarah
I know these are not natural colours but they seem to work somehow. It is such a feline design too.
Time To Leave Cat Sterling Silver and Enamel Earrings by Zarah
Elegant sterling silver cat earrings by Zarah, with multi-color leaves in enamel finish. Gorgeous earrings for cat lovers!
Round Cat Earrings – silver with blue and green enamel
Again these are not naturalistic cats, but the design is quirky and funky and kind of cuddly almost if that makes any sense?
Round Cat Silver & Enamel Earrings
Any teenager would love these round silver and enamel cat earrings with their bold floral design. Funky and fun!
Orange Kitty Cat Earrings
Just a touch of mischief here because as all who know orange kitties will agree, they are full of bounce.
Orange Tiger Kitty Earrings
These are altogether more naturalistic in colour. If you know a fan of tigers or tiger kitties they might like these delightful orange tabby earrings in sterling silver and enamel. These tiger kitty earrings will make your day!
Exotic and colorful cat earrings – For those who KNOW the cat is divine!
And if you don't agree the cat is divine, we will just have to give you one or two extra piercings with our sharp feet!
Bastet Earrings – Collectible Jewelry Accessory Dangle Studs Jewel
Exotic Bastet cat earrings for worshippers of all things feline! They will weave a magic spell on you if you let them.
14k White Gold Red CZ Cat Screwback Earringsb
Now these are nice. They are the tiny screwback type of earring rather than the bold dangly statement earrings we have seen so far but the colour is pretty and the design is elegant. No crazy cat lady could resist these. The design means cat lovers may have to lean closer to check if they are really cats which is pretty seductive. Miaow!
Luxury Gold and Diamond Cat Earrings – Very special gifts for the true cat worshipper