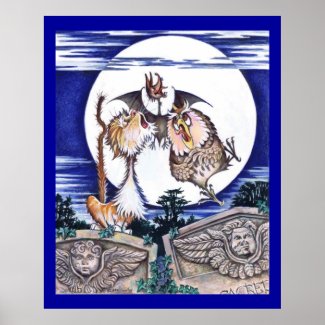 The Cat, the Bat and the Owl Posters
by
persimew
Lucky black cats? This time of year black cats get a lot of press coverage don't they? Some say they are lucky, some say just the opposite, but on the subject of luck there are lots of experts and no real substance. The Cat, the Bat and the Owl are here to remind you of a few basic things, and to show you a few pretty things too, as is our job…

Bastet Pendant – Collectible Medallion Necklace Accessory Jewelry
Bastet – Egyptian Cat God… If you love black cats you'll adore this!

Luck is very much to do with Gratitude A grateful person looks at life in a particularly positive way. They are likely to be prepared to seize opportunities that would frighten others, they expect success because they perceive themselves as successful and because they view life in a positive way others see them in a positive way. Perhaps what others see is luck then is merely perception? If you are interested in the power of positivity and you like poetry, this book might be something you enjoy!
Other people design their lives and homes around lucky objects, like these Maneki Neko Cats It may be that doing so increases their confidence so they they can trust that all important intuition. Ever had a feeling about not going out? Mummy has a couple of times – once she ignored that feeling and wrote her car off, another time when she wanted to leave work she kept inexplicably finding excuses just to hang around and she left 15 minutes later than usual. On the way home she saw where an overturned car had slid across the road and taken out a solid wall! Later she found out this happened at the time she would normally have been driving along that road. Had she followed her usual habit of leaving right on time she would have probably been injured, possibly even killed.
So intuition may in fact be something else… Why not? All time coexists after all!
On that note, leaving you with a few lucky cats!

Japanese sake set Fortune cat maneki neko Blk
Delightful Japanese sake set decorated with fortune cats. Bring your guests good luck at the end of a meal!


Stone Maneki Neko Lucky Cat Sculpture
This little cat reminds us of Woolls – we were so lucky to have Woolls in our lives!


StealStreet Maneki Neko Money Lucky Cat Chinese Japanese Statue
How could you look at that little guy and not feel positive> What a cute face he has!