Kitten Ornaments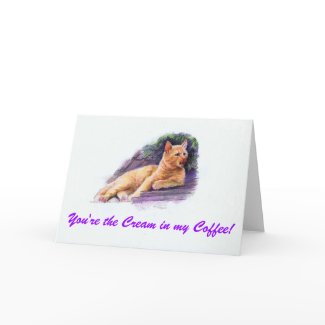 The Cream Cards
by
persimew
A kitten for Christmas is something many little girls dream of, and we all know the sad stories of what can happen after Christmas when the money is short and the novelty wears off, but these Christmas kittens will never dent your bank balance or run up the curtains! I have found some of the prettiest Christmas kitten ornaments today to share with you. So with no more ado, let's Celebrate the Christmas Kitty
A kitten for Christmas

Cat Lovers Tabletop Christmas Decoration: Purr-fect Holiday Tree by The Bradford Exchange
All cat lovers know how fascinated cats and kittens can be with the Christmas Tree.
This delightful figurine has a tree full of Christmas kittens.
I love it!


Mischievous Kittens #14 2012 Hallmark Ornament
Hallmark's 2012 Mischievous Kitten is a little white ball of fluff!
Adorable and with fine attention to detail!


Calico Kittens Enesco Our First Christmas Together Ornament
This one is so cute.
Whether celebrating a first Christmas as a couple, or a first Christmas with Baby, this ornament could be an heirloom.


Calico Cat Ornament Tiny Angel Calico Cat Figurine
Adorable Calico (tortoiseshell) kitty ornament.
This cat angel proves a cat is not just for Christmas!


CAT RED Ginger Tabby Short hair MINIATURE Angel Christmas Ornament NEW Resin CTA04
Never forget the orange kitty!
Self proclaimed rulers and gangstas of the Kitty World!
Orange kitties are just such fun!

Finally, these gorgeous and mischievous kitten ornaments from Amazon UK prove that a cat is NOT just for Christmas!
Thank you for visiting today, and should you like to see some pretty Crystal cats, feel free to visit A Clowder of Cats