A Loveliness of Ladybirds
We love ladybirds – the original little red dot of course and we are here to show you a loveliness of ladybirds gifts. So off we go on our ladybug hunt!
cartoon ladybugs skate board decks
by
sallylux
View other
Cartoon Skateboards
Ladybird, Ladybird
Ladybird Ladybird or perhaps Ladybug Ladybug the poem is entrenched in childhood memories as a frightening rhyme. For Kitty Mummy, it was Ladybird Ladybird and I envisaged the panic of my favorite little ladybug beetles in a housefire.
Ladybird, ladybird, fly away home,
Your house is on fire,
Your children shall burn!
How we were traumatised as kids, eh?
Then today I heard the phrase "A Loveliness of Ladybirds" and thought it was so apt! I had never heard this collective noun before, although I was familiar with a clowder of cats and a kindle of kittens. There is some dispute about whether this is a modern invention, but who cares? Even a plague of ladybirds can be a pretty sight, so I for one truly hope "a loveliness of ladybirds" takes off if new and resurfaces if not! Not that I am prejudiced towards ladybugs in any way…
What does a ladybird do? – The Lifecycle of a Beetle
The common garden ladybirds we all love are so useful in the garden, but what about their life cycle? Here are some interesting ladybird resources you can enjoy with the kids.
Beautiful Ladybird Jewelry
We kitties love to get our claws on bugs and as we are refined kitties but jewelry is a beautiful distraction – so we went in search of some pretty ladybird jewelry. You can click on the pictures to get more information.
Ladybug Jewelry for Valentines, Birthday and Christmas
These pretty pieces of ladybug jewelry all have good reviews and demonstrate a real loveliness of ladybirds! I especially like the heart earrings which would make a super Valentine gift.
There is actually some doubt as to the authenticity of the collective noun, a loveliness of ladybirds, but I like it… So, like fairies, I believe in a loveliness of ladybirds!
• Talk:loveliness – Wiktionary
Visviva has decided that a large group of ladybirds or ladybugs is not a loveliness…
• Collective nouns, groups of animals, terms for animal and other groups including birds.
Collective nouns for animals and birds – names for groups of animals, birds and insects
• Views of the Ock: A loveliness of ladybirds…
Pictures of ladybirds…
To be honest if a loveliness of ladybirds is not an historic collective noun, I think we should campaign to make it one, don't you?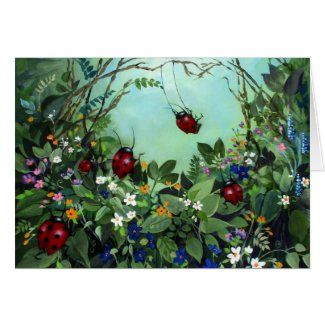 Ladybugs At Play Note Card
by
goldersbug
Create
custom photo note cards
at zazzle.com.
Affordable Ladybug Jewelry from Amazon – Ladybugs and Ladybirds to love!
Although beetles are beautiful, irridescent creatures, not many are as universally popular as the ladybird beetle. Here is a selection of jewelry that will be fun to wear and enjoy every day.
Ladybird or Ladybug?
Whether you grow up with ladybugs or ladybirds depends where you live. For me they are ladybirds – I am British – what are ladybirds to you?
Ladybug Macbook Pro 15″ Rickshaw Flap Sleeve Sleeves For MacBooks
by
nyxxie
View other Animal MacBook Sleeves at
Zazzle.com